The Artist Is Present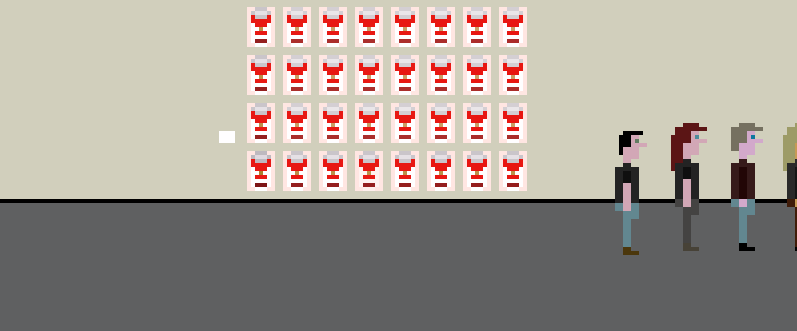 Play Online (desktop and mobile-friendly)
Description
Are games art?! This one definitely is! The Artist is Present is a Sierra-style recreation of the famed performance piece of the same name by artist Marina Abramovic at the Museum of Modern Art in New York City. Have the experience only a lucky few have ever had! Stare into Marina Abramovic's eyes! Make of it what you will! Just like art!
Released on 14 September 2011, The Artist Is Present was originally written in ActionScript 3 using FlashBuilder 4.5 and the excellent Flixel library.
This version has been (laboriously) ported to the also excellent Phaser 3 library for JavaScript. The font in The Artist Is Present is Commodore 64 Pixelized by Devin Cook.
Press
The Artist Is Present was featured on IndieGames.com, written up by Kotaku, Joystiq, The Huffington Post, Spiegel Online and many more. I was interviewed about the game by Slate, The Village Voice, ARTINFO, and Hyperallergic among others. The game was even tweeted by The Museum of Modern Art itself.
Exhibitions
The Artist Is Present has appeared in the exhibitions The Name of the Game at the Stephen Lawrence Gallery, It's Art in the Game at Museum Hilversum, Space Invaders at Nikolaj Kunsthal, Up Up Down Down Left Right Left Right B A Start at SPACES, Pause: Computer Games and Cultural Contingencies at Temporary Gallery, Brot und Spiele at the Keine Humboldt Gallerie, The Aesthetics of Gameplay by the SIGGRAPH Digital Arts Community (online), and the Montréal Digital Arts Biennial at the Musée d'Art Contemporain de Montréal.
Documentation
License
The Artist Is Present is an open source game licensed under a Creative Commons Attribution-NonCommercial 3.0 Unported License. You can obtain the source code from its code repository on GitHub.